Product Inventory
loading..
Regular price
Sale price
$37.95
Unit price
per
Sale
Sold out
Radium Engineering Walbro Fuel Pump Outlet Adapter / Check Valve
For Walbro F90000267 / F90000274 Pumps Only
Part Number: 20-0598
Installation Instructions (PDF)
This 6AN male adapter is used to integrate a high flow check valve on the outlet of many fuel pumps. The valve out flows the integrated check valve that comes standard on many fuel pump outlets. Furthermore, decreasing this restriction allows the pump to operate at less current. This keeps fuel temperatures lower and prevents cavitation. The two billet aluminum adapter halves are secured together with a stainless steel retainer and bolts that clamp tightly around the pump outlet. A stainless steel plunger and spring are used for making a one-way connection. FKM O-rings seal for a leak free connection and E85 compatibility.
Brushless
Ti Automotive E5LM
fuel pump shown above.
Walbro F90000295
fuel pump shown above.
Bosch Motorsports BR540 (or pre May 2019 Deatschwerks DW400) fuel pump shown above.
---
Test Comparison
We have tested fuel pumps with and without check valves. With any check valve, flow and current draw will be affected. The two check valves tested were the standard integrated pump outlet check valve and the Radium Engineering check valve.
Standard integrated check valve 
Flow Restriction: 46-76 LPH
Current Draw: 3.2-4.8 Amps
Radium Engineering check valve
Flow Restriction: 15 LPH
Current Draw: 0.5 Amps
---
Fuel Pump Compatibility
The Radium Engineering check valve is very specific to the pump. It will only work on pumps listed below. NOTE: Before ordering, make sure the pump outlet hose barb ridges are in excellent condition. Damaged or non-round hose barb ridges may prevent the O-ring from obtaining a positive seal.
Compatible. These pumps did NOT come standard with a check valve, thus are perfect candidates for the Radium Engineering check valve.
TI Automotive E5LM (BKS1000 Brushless Controller Kit)
TI Automotive E5LM (BKS1001 Brushless Controller Kit)
Walbro/TI Automotive F90000295
Bosch Motorsports BR540
Deatschwerks DW400 (pre May 2019)
Not Compatible.
The check valve will physically fit these pumps, but they come standard with an integrated check valve that can NOT be removed.
Walbro/TI Automotive F90000267 
Walbro/TI Automotive F90000274
Walbro/TI Automotive F90000285 
Deatschwerks DW400 (post May 2019)
---
View full details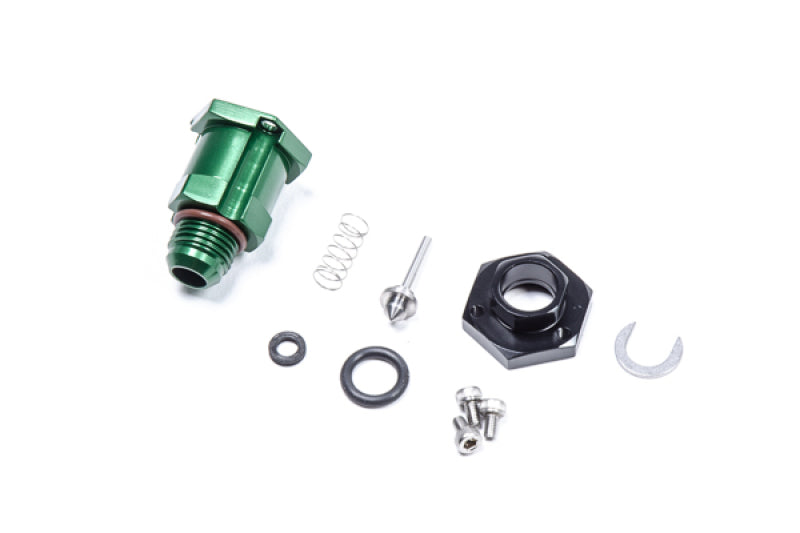 Customer Reviews
02/28/2023
Nelson S.

United States
Great Customer Support
Had an order mixup but Customer care was great in quickly responding and sending me the package I ordered. Thanks